Hello!
I'm building the 1/72 "Platinum Edition" Revell Flower Class Corvette....the HMS Campanula.
This kit isn't completely new to me, I bought the previous Revell release early 90s. Started, but gave up fairly soon...no clue what happened to it, but it's gone
When I stumbled upon the platinum edition just before Christmas, I couldn't resist and (with my wife's blessing) I left the hobby shop with this huge box.
At first I leaned towards building the Snowberry, because the kit only has photo etched parts for the square gunshield (rivets on it are all wrong btw).
My wife picked the Campanula and since I need the dining table for a long time... Campanula it will be.
The extra "platinum" bits and pieces are all nice and fine, but it's really not enough to build it straight from the box.
From GLS: hedgehog, carley floats, depth charge additions, lewis guns and splinter padding.
I'll scratch build and modify other parts (4" gun, bandstand, pom-pom, depth charge launchers, etc, etc), but I won't tackle every possible "wrong".
Oh, also bought some LED light strips...and tiny red and green lamps.
Ok...here we go...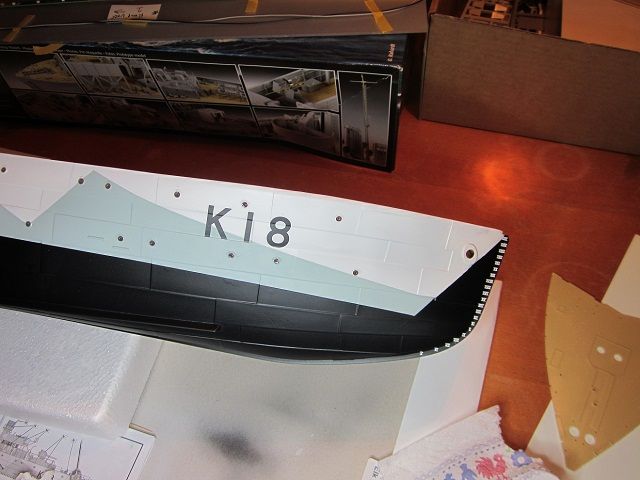 I reduced the thickness of the bow, but not all the way....a black bow is somewhat forgiving I think.
The grey is Vallejo White Grey 151 and the WA blue is Vallejo Light Sea Grey 108. Will highlight and do the weathering later on.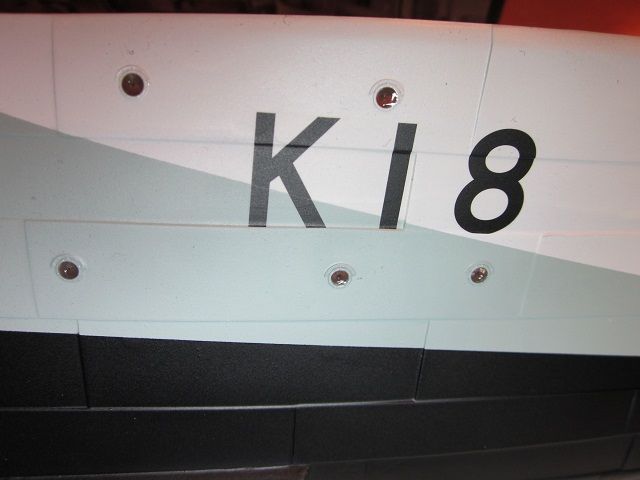 Detail of the photo etched scuttles. The glass "plugs" were a real pain...poor fit and they have ugly divots.
Drops of gloss varnish solved this problem.
The rear deck...nice from Revell to add wooden decks, but mostly useless when 90% of the deck isn't wood.
I removed all the detail from the deck and engraved the lines between the steel plates.
Will modify the depth charge launchers "CB style", so I filled the gaps for them.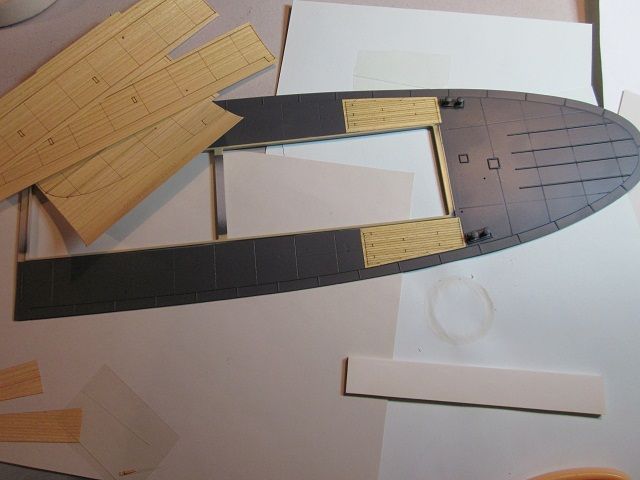 The only wood I actually needed...
Pretty nice stuff by the way...it's real wood...amazingly thin. Not easy to work with...when it sticks...it STICKS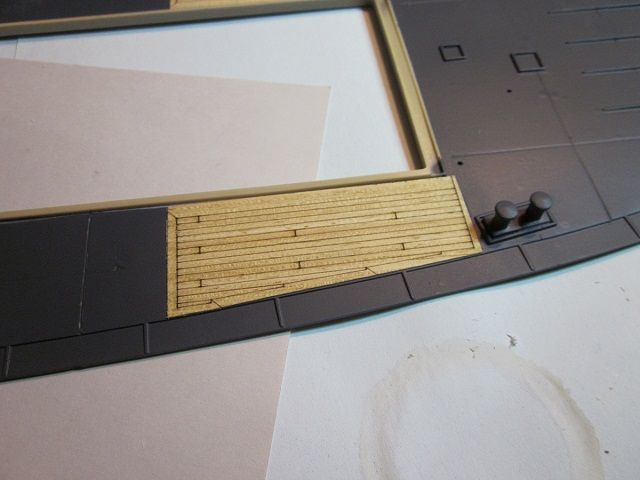 Detail photo of the wooden deck.
More soon
Rob