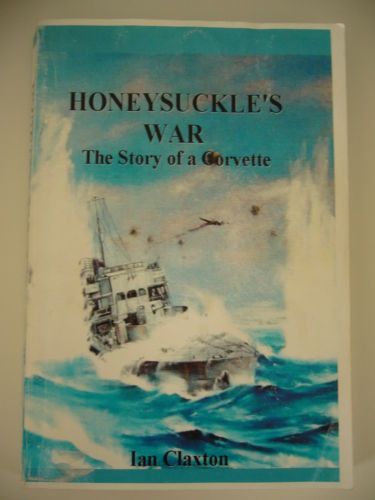 This was an extremely lucky find on Ebay and went for only £5 in the end ! It has to be the most detailed single ship history for a Royal Navy corvette that I have seen so far and covers the whole of her career from April 1940 to breaking up in November 1950 with extensive crew and ship photographs, a full ships crew list, chronological accounts of convoys and other actions, details of structural changes and additions and loads more...
My copy is signed to Commander Eddie Grenfell from the Flower Class Corvette Association in thanks for his work to obtain the Arctic Campaign Medal.
The author's grandfather was the Leading Stoker on Honeysuckle and after he died in 1980 Claxton got in touch with the Flower Class Corvette Association and met members of Honeysuckle's crew. This book is the result of his 18 year research project and a fitting tribute to the ship and crew.
Author: Ian Claxton
Title: Honeysuckle's War: The Story of a Corvette
Authors Limited First Edition, Self Published 1999
Printed by: Townsend Treasures Printing, Highcliffe, Dorset
329 pages