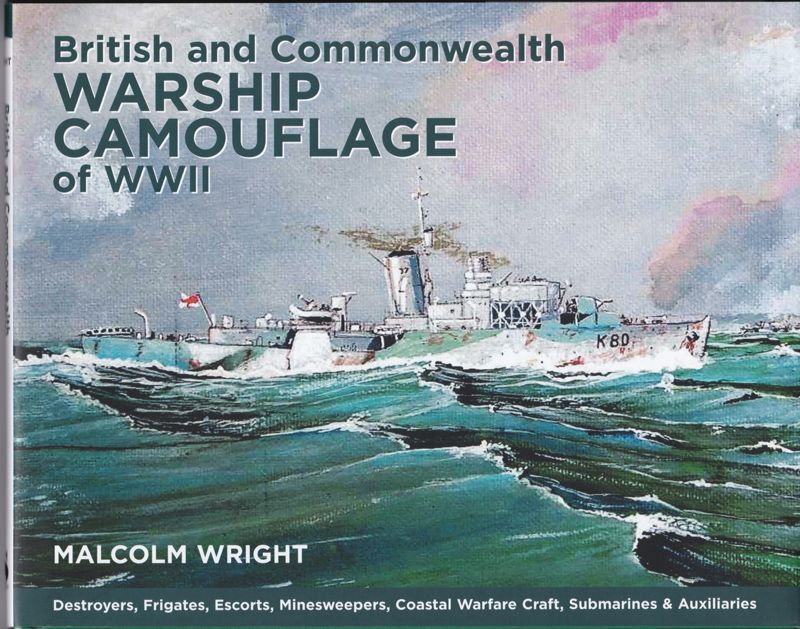 It's a new WWII warship camouflage book with colour profiles at last !!  If you have been looking for a decent book on warship camouflage for research or modelling lately then you will have been largely disappointed by the choice available. That choice has been limited to the Alan Raven Warship Perspectives series of 2000-2001, which are now out of print and very expensive secondhand, or Peter Hodges equally rare Royal Navy Warship Camouflage from 1973. This new volume is the first of two planned volumes and covers the Destroyers, Frigates, Escorts, Minesweepers, Coastal Warfare Craft, Submarines and Auxiliaries. The second volume will cover capital ships. There's a four page introduction explaining how the author researched his ship colour schemes, a page of reference sources and a paint chip chart showing paint colours used in WWII.
There have been some criticisms of the presentation of only a single side profile for each ship (although there are some deck view profiles from above). It's true that there were examples of ships with colour schemes that were not mirrored on each side of the ship (you can find examples in the images section of this forum), but they are not common and in general most ships had matching schemes. Camouflage schemes did change dramatically over time for each ship though and these changes are not documented, you just get one profile frozen in time.
These are small gripes though for what is a really useful book. For Flower Class Corvette researchers there are 39 side profiles and another 9 profiles of the Castle Class which superseded the Flowers.
Written by Malcolm Wright
Published by Seaforth Publishing
Published 2014
158 pages
Available from the publisher here
http://www.pen-and-sword.co.uk/British-and-Commonwealth-Warship-Camouflage-of-WW-II-Hardback/p/6818
Available from Amazon here (£10 cheaper !)
http://www.amazon.co.uk/British-Commonwealth-Warship-Camouflage-Minesweepers/dp/1848322054/ref=sr_1_1?s=books&ie=UTF8&qid=1424037250&sr=1-1&keywords=warship+camouflage