Pennant K 191
Built by Canadian Vickers Ltd. Montreal
Ordered 20 Jan 1940
Laid down 20 Feb 1940
Launched 3 Jul 1940
Commissioned 15 May 1941
End service 31 May 1945
Fo'c'sle extention at Charleston, SC from 9/12/41 to 9/2/42
Decommissioned and returned to the Royal Navy on 31 May 1945.
Scrapped at Inverkeithing 1947.
Commanders
1 A/Lt.Cdr. George Hay Stephen, RCNR 5 Sep 1940 12 May 1942
2 Lt. Victor Browne, RCNR 13 May 1942 2 Mar 1944
3 T/Lt. Douglas Sutherland Martin, RCNR 3 Mar 1944 31 May 1945
2 Oct 1941
HMCS Mayflower (A/Lt.Cdr. G.H. Stephen, RCNR) picks up 35 survivors from the British tanker San Florentino that was torpedoed and sunk by German U-boat U-94 in the North Atlantic in position 52°50'N, 34°40'W.
9 Feb 1942
HMCS Mayflower (A/Lt.Cdr. G.H. Stephen, RCNR) completed a refit at Charleston, South Carolina, USA.
11 Jan 1943
HMCS Mayflower (A/Lt.Cdr. V. Browne, RCNVR) completed a refit at Pictou, Nova Scotia, Canada.
HMCS Mayflower 1944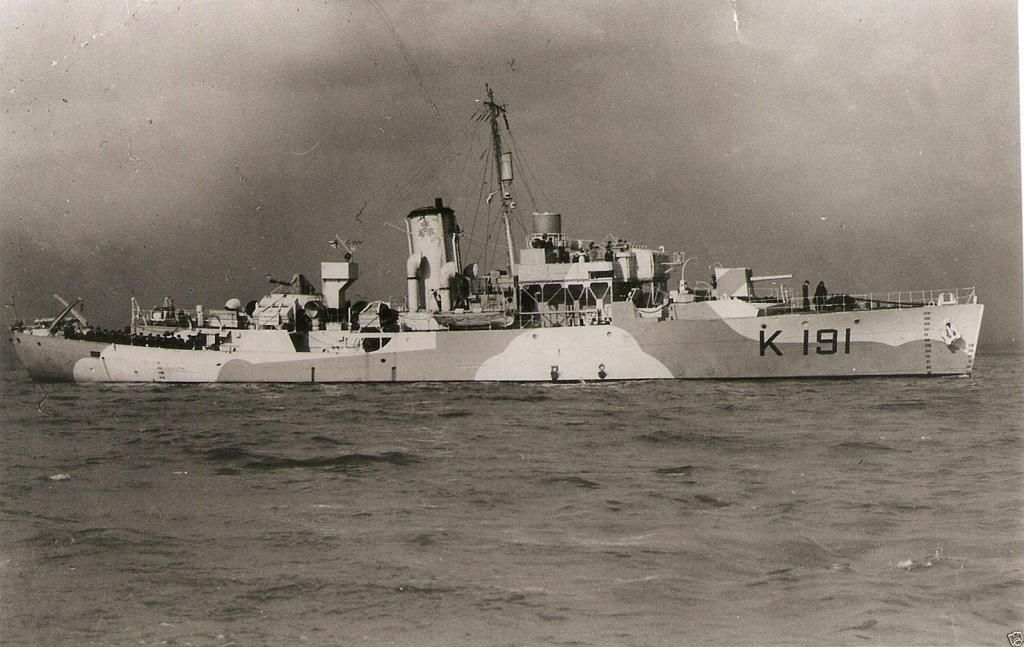 Below: A photo of what appears to be the entire crew taken in the UK and dated February 1945. In front of the crew the ships name plate and gunshield art are displayed.
The gunshield art shows Daisy Mae, the heroine of the wartime Li'l Abner comic strip by Al Capps. She carries a smoking shotgun, having just blasted the sinking U-Boat in the background, and is watched by smirking flowers and a winking sun. The Mayflower was known to the crew as Daisy Mae.
The original photo was on a long roll so I have had to scan it in three sections from left to right.